Professional WordPress Review & Testimonial Setup
My WordPress review and testimonial integration will allow you to collect and highlight customer reviews and ratings. Positive ratings and testimonials can be the social proof that wins you potential customers over your competitors. Higher ratings can also lead to improvements in your search rankings!
Collect reviews from Google, Facebook and Yelp ...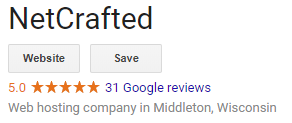 ... and feature them directly on your site!
Frequently Asked Questions
Do you collect the reviews for me?
No. It will be up to you to ask your customers to leave a review or testimonial. I will build and implement the system to refer them to your/their preferred platform for leaving a review. To see this in action, please visit my feedback page.
What if a customer doesn't use Facebook/Google/Yelp but wants to leave a review?
There's an option for those without a social profile on any of the supported networks to leave a review directly on-site. This review will be emailed directly to you. While an on-site review won't have the same power to increase your search rankings, you can always manually add these reviews to your site.
What about negative or poor ratings?
Before a customer leaves a review, they are first presented with a question about whether or not their customer experience was positive. If their experience was negative they will be directed to a feedback form which will only go directly to you. If the customer finds their way to Facebook/Google/Yelp on their own to leave negative feedback, it will be up to you to respond in a positive manner addressing their concerns; however, this feedback is on a third-party platform and generally can not be removed. You do have the option to only display positive reviews on your site.
Need more information? Contact me below.