Professional malware removal and hacked site cleanup for a flat fee of only $99 per domain, backed by a 30 day guarantee!
In addition to finding and removing the the malware, I will completely update, harden and secure your site with the best WordPress security tools.
Don't Wait, Get Started Now!
I am able to repair most sites with zero data loss. Because your site is infected, it is more likely to suffer data loss if it's not repaired. Act quickly to secure your site before it's too late!
If you're ready to get started, hire me right now!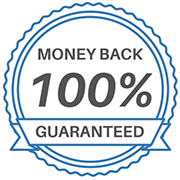 Questions can be sent to me using the form to the right or directly to scott@netcrafted.com. Keep reading to learn more about my malware removal service and how you can prevent this from happening again.
Switch to NetCrafted Hosting and Receive Free Malware Removal!
Unsatisfied with your current hosting? Managed WordPress hosting at NetCrafted includes free malware removal and prevention, among many other benefits. Contact me (using the form above or at scott@netcrafted.com) to learn you I can switch your site, hassle free, to a fully secured WordPress optimized server.
WordPress Malware Removal Service
I perform a full scan of your website files using multiple tools to find all infected files. Malicious files will either be removed or repaired depending on their content.
If your site's infection placed you on a blacklist, visitors may be seeing a warning when they try to visit your site. I'll assist in removing it from search engine blacklists.
The best WordPress security plugins will be installed and professionally configured. Your site will be hardened against a variety of future attacks.
Complete Reinstall and Update
While I'm repairing your site, I'll do a complete reinstallation and update of all of your WordPress core files, active plugins and theme.
Your WordPress users will be reviewed for unauthorized users and all passwords, including databases, will be reset with strong replacements.
Unfortunately most sites are hosted on shared servers and there's a slight chance your infection could come back. I'm so confident with my work that I'll remove any other infections that may return for 30 days.
Get your site cleaned now!
Malware Prevention with Professional Monitoring Add-on
Keeping your website secure and malware free in the future will require keeping your WordPress core files, themes and plugins up to date, monitoring security scans and using strong passwords for all user and hosting logins. You should also be keeping database and file backups offsite in case of loss.
If you would prefer to leave the security of your site in the hands of a professional, consider my WordPress Site Monitoring which includes monitored security scans, managed updates, offsite file and database backups, uptime monitoring and free malware removal (active infection not included).
WordPress Backup & Monitoring Includes:
Security Scans
   Regular security scans and manual audits to ensure your site stays secure.
Managed WordPress Updates
   WordPress core files, themes and plugins are regularly updated; an important part of your site's security.
Uptime Monitoring
   Your site is checked every 5 minutes for availability. You'll be notified by email when when your site is down and again when it's back up.
Free Malware Removal
   In the unlikely event that your site is infected with malware while under monitoring, removal is on me!
Offsite Database Backup
   Daily offsite database backups. Your backup shouldn't be kept on your website!
Offsite File Backup
   Daily backups of your entire WordPress website to secure, offsite storage. Unlimited space with assisted file restore.
Here are a few reviews from my customers. I work with many professional photographers using ProPhoto and Bludomain on a variety of hosts, but I can clean any WordPress malware infection.
Amazing service!!! Very prompt with communicating and letting me know what was going on at all times. I HIGHLY recommend using NetCrafted for any issues you have!
I am so happy I found NetCrafted. They saved my life when spam hit my blog which I consider my "baby". I was confused and unsure of what to do. Not only did they come to my rescue to remove the malware, but they have also moved my site from a coworkers server, again something I would never have known what to do. Thank you!!
In a panic, I was referred to Netcrafted when my website was acting up and I was receiving spam comments on my blog. Someone mentioned that malware may have crept its way onto my website. Scott was so helpful and knowledgeable while I was in a panic. As someone not really back end savvy, he explained everything to me and I felt well taken care of. He removed the malware really quickly and installed some preventative measures as well. I highly recommend him and his company. I hope to not use them again for this particular issue 🙂 but would trust him in an instant.
I highly recommend Scott. He cleaned up my website of all malware, helped me reinstate with google, answered all my questions, and did everything with fast and timely response. He was recommended to me and now I know why.....his knowledge and service is very much appreciated.
I had thousands of back links on my site and this showed up in Google so was worried about Malware embedded in a folder somewhere. NetCrafted sorted this out within hours with great communication and advice I highly recommend them for peace of mind and a great service.
Absolutely great! I was so glad to find Scott to help me with my infected website. In no time it was cleaned of malware, and now is running fresh and clean. This is the best address to go to. Thank you very much, Scott!